Bi-fold Doors Peterborough
Open up your home with a Panoramic B-Folding Doors!
Choosing our bi-fold doors will be the perfect choice if you are looking for that little bit of sophistication and would like your Peterborough home to stand out from the crowd. These incredible bi-folding doors don't just look stunning with their concertina appeal, but can improve the entire layout of any room.
By choosing our stylish bi-fold doors will provide an innovative and modern charm to your Peterborough home, whilst offering many practical recompenses. These striking bi-folding doors will allow you to completely open up a conservatory into either a patio area or grass garden. These stunning doors when opened allows plenty of fresh air and huge amounts of natural sun light. When it comes to entertaining friends and family, there is nothing better than a bifold door. The bi-folding doors can easily be opened creating space for entertaining space, especially with large parties. Guests can easily move from outside to inside at ease without partygoers feeling cut off from half of the party.
Our bifold doors are extremely versatile providing maximum flexibility creating space when fully opened. These bifold doors can be partially opened, fully opened or closed, depending on how much space you require inside or out. When the door is fully opened it neatly stacks into the wall. Bi-fold doors have become increasingly popular especially with property developers and Peterborough homeowners. This is due to modern families requiring sophisticated top style doors with remarkable functionality.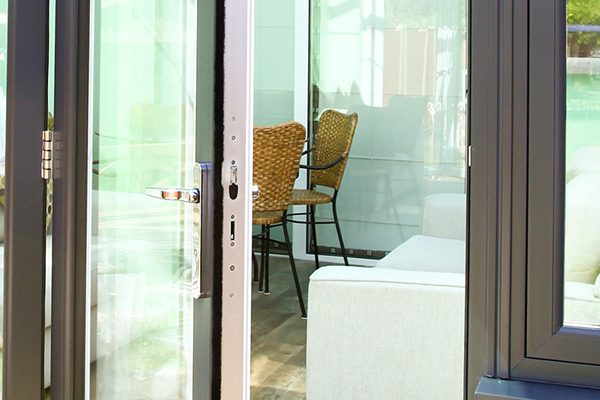 UPVC Bi-fold Doors Peterborough
Our uPVC bifold doors are extremely durable regardless of the weather conditions. All uPVC bi-fold doors are made to measure and completely customable in both function, size and design. We can completely tailor these uPVC bifold doors to your requirements. These folding doors glide effortlessly with absolute minimum maintenance. These stunning uPVC bifold doors will really bring the outside in to your home.
When it comes to home security then these uPVC bifold doors will not let you down. With advanced locking mechanism built in as standard they will prevent any intruder from entering your home. These doors are secured by multiply points maximising the door security, with each door individually secured in two points, top and bottom and 3 on each side. Not forgetting each door is locked together for additional strength. This is why all of our uPVC bifold doors are installed with a 10 year guarantee. Providing peace of mind on your bifold door investment.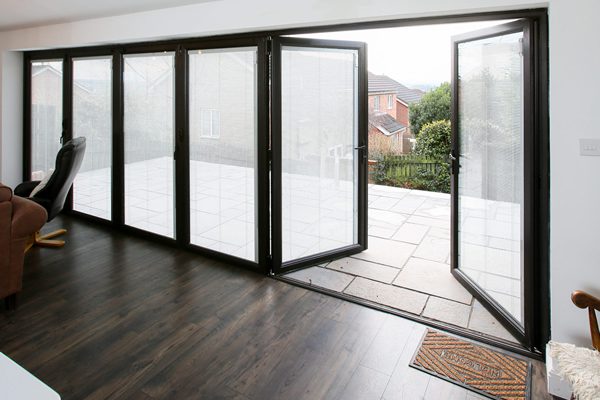 Aluminium Bi-fold Doors Peterborough
Aluminium doors were originally used for commercial properties only. However, aluminium has become extremely popular especially within homes throughout Peterborough. This is due to the strength, durability and resistant to corrosion. Due to the strength of aluminium allows these aluminium bifold door to have reduced frame thickness providing more glass which allows more light into your home. Aluminium bifold doors require no maintenance as they are extremely long lasting, averaging approximately 35 year's life span. These stylish aluminium bi-folding doors remain stylish for decades, whilst showing off its beautiful glazing and high security features. Aluminium is extremely eco-friendly, allowing these aluminium doors to be recycled many times, so you can do your bit for the environment.
When it comes to colour options, then there is nothing better than the aluminium door option. With over 200 RAL colours to choose from, you can even have one colour inside and another on the outside.  We also offer thermally broken front doors, back doors, French doors and Patio doors. These aluminium door options are manufactured to keep you warm in the winter whilst saving you money on your energy bills.